Early Life
The full name of Rob Dyrek is Robert Stanley Dyrdek. He was born on the 28th June 1974 in Ohio. Gene Dyrdek and Patty Dyrdek are his parents. From the age of 11, he started dreaming of becoming a pro skateboarder. He was so obsessed with it that even in school he always thinks about the trick he will do. When he was 16 years old he left him home to move to California to be a professional skateboarder.
Personal Life
Rob Dyrdek Age: 47
Born: June 28, 1974
Hometown: USA
Spouse: Bryiana Noelle Flores
Children: 2
Dyrdek height: 170 cm
Rob Dyrdek Tattoo
Rob Dyrdek has a tattoo on his back. He has the monster tattoo. Rob Dyrdek has another tattoo on his wrist. Rob Dyrdek's wrist tattoo is super cool. It was first noticeable on 'Fantasy Factory. On the top of the wrist, he has 3 diamond tattoos.
Rob Dyrdek Journey from Pro Skateboarder to Family Man; Rob Dyrdek Wife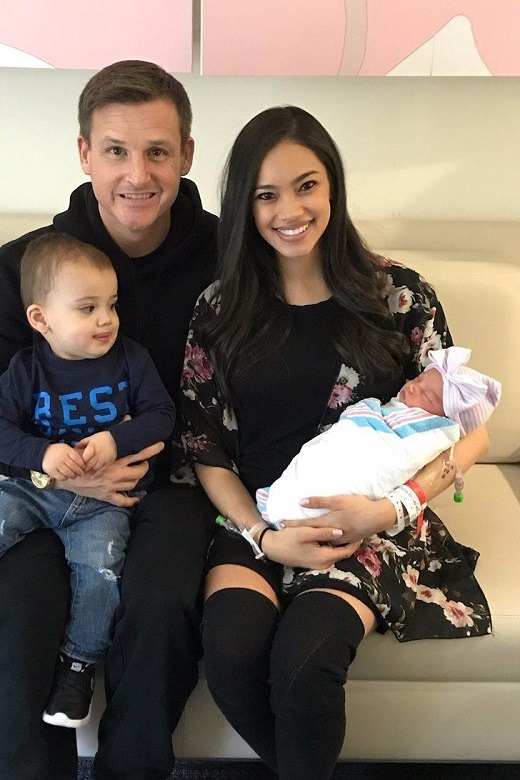 Dyrdek got engaged with his beautiful wife Bryiana Noelle Flores in 2016. His two children are Kodah Dash (3 years) and Nala Rayan (2 years). He loves spending time with his family all the time. So, in this pandemic e=he confessed that he had a fun time with this family. So, it didn't bother him much to stay at home during the pandemic with his family. In this Corona Virus Outbreak, he was
totally home locked with his family. He decorated an elegant indoor display beautifully. He covering their foyer with pink colored balloons and surprise gifts in his home in California for his wife's birthday and shared it on social media in the lockdown. Not alone he but also his wife also celebrated his birthday by setting up an escape game with crystal.
World Records
Rob Dyrdek set several world records. He also achieved Guinness World Records for skateboarding while he was performing on Rob Dig. He had made world records on Longest 50-50 rail grind, longest boardslide. Highest skateboard ramp jump into the water.
Career
Highlights of Rob Dyrdek's Career
Rob & Big
Rob Dyrdek's Fantasy Factory
Ridiculousness
Skateboard
DC Sponsors
After moving to California from his hometown, Ohio he started his career as a Skateboarder where he was sponsored by DC shoes. He rode for DC shoes till 2016. Later, he was sponsored by many other brands such as EA Skate, Monster Energy, and Silver Trucks. After that, Dyrdek launched his own skateboard competition namely Street League Skateboarding Competition. It has gained huge popularity and became an International event worth $1.6 million prizes. From there, he started a new chapter in TV series. He started "Rob & Big" which has three seasons. Each season has more than 30 episodes. In 2009, Another TV series of Rob Dyrdek's "Fantasy Factory" has 7 seasons. Each season has 70 episodes. Rob Dyrdek's Fantasy Factory' has taken much attraction from the audience. He also made a documentary "The motivation" based on a skateboard competition launched by him. He turned over a new leaf when in 2011 with his entering the movie industry.
Rob made his debut role in 'Jackass 3.5'. At the same time, he started another show called 'Ridiculousness' on MTV. This show drew a huge attraction. He hosted this show with his two bosom friends Chanel West Coast and Sterling Brim. In the following year, he hosted another TV show 'Punk'd'. The most ironic fact is that Justin Bieber tried to mock the show though he got busted.
Highlights of his salary
Job Dyrdek's salary in 'Rob & Big' is $60000 per episode. For Fantasy factory he charged the producer $100000 per episode. Besides, his International skateboard event worth $1.6 million prizes.
Luxury Mansions of Job Dyrdek
He owns three luxury houses in Mullholland Street. Here, you will get to know the price and size of these mansions Firstly, let's know of his mansion selling history-
Location: Mount Olympus neighborhood above Laurel Canyon
Worth: $2.549 million
Selling Price: $2.125 million
Location: Hollywood Knolls neighborhood near Lake Hollywood
Worth: $1.395 million
Selling Price: $1.175 million
Location: Laurel Hills neighborhood of Los Angeles between Laurel
Canyon and Coldwater Canyon
Selling Price: $3.5 million
Rob Dyrdek Mansion Mullholland Estates
Mullholland Estates
He bought this mansion from singer Robbie Williams. This site is situated on 3.1 acres of land. He has already made a plan for building a mansion on it.
Worth: $9.9 million
4-bedroom, 7,000 square-foot mansion Rob Dyrdek's wife and he paid for building up their huge mansion on the
same area. They are already in a plan for highly luxurious interior decorations.
Worth: $6 million
THIRD mansion in Mulholland Estates
Worth: $8.5 million
Mystery revealed about Rob Dyrdek Net Worth
Though Sporting Free refers that Rob Dyrdek Net worth 2020 is $50 million. On the contrary, Celebrity Net Worth suggests that Rob Dyrdek Net Worth is estimated at around $100 million. This controversy arises mainly due to the covering of sources of income. You might see some magazine suggests different opinion about Rob Dyrdek Net Worth. Basically, the Sporting fee covered the area of TV with his skateboard career. It covered all the aspects of his sources such as TV shows career, sponsors, business, etc.
Rob Dyrdek Net Worth
Rob Dyrdek Net Worth is an American entrepreneur, actor, producer, reality and TV show personality. Additionally, he was branded himself as the "Most Influential skateboarders of all-time" awarded by Foxweekly. Rob Dyrdek is well renowned for his role in Rob & Big, Ridiculousness, and Rob Dyrdek's Fantasy Factory. His net worth is even a greater mystery. According to Sporting Free, Rob Dyrdek Net worth of 2020 is $50 million. On the other hand, Celebrity Net Worth claims that Rob Dyrdek Net Worth is estimated at around $100 million. The secret of his asset finally revealed after this pandemic! Here, you will know every aspect of his source of income, how he made this fortune, and other hidden aspects.
If you want to know more about successful people, check this out.