Read this article if you wanted to buy the best laptop in 2021. Things get complicating and confusing while buying and when it comes to tech devices (pc, laptop, mobile, etc) it fell the most. There are many types of laptops such as Gaming laptops, Chromebooks, Business laptops, and 2 in 1 convertible laptop, etc. Here are many certain things that you can look after while buying the best laptop in 2021. The most important thing to look for before buying a new laptop is its specifications. It indicates how powerful and active the laptop will be while using.
Processor is the first thing you should look after, it could be either Intel or AMD. Ram is also plays an important part, the least 4GB ram you can use but I recommend 8GB ram for using a long time. You don't need to worry about the graphics, in laptops graphics integrated with the processor. For gaming, u will need a gaming laptop with Nvidia or AMD-based GPU. SSD has a big part in the laptop's performance. After all this, u should consider battery life. Without a power adapter how long your laptop can perform for work/gaming etc. It could be 4/5 hours more or less. If you want the best laptop in 2021, it should have a battery life of more than at least 6 hours. After checking all these recommendations we choose the top 9 best laptop in 2021 for you.
9. Asus rog Zephyrus g15
One of the longest battery life-based gaming laptops.
Specifications
Ryzen 9 5900HS
16 GB RAM|3200 MHz
8 cores|16 Threads
RTX 3060
512 GB NVMe SSD
6″ QHD 165Hz IPS Display
This monster got a killer AMD with Nvidia performance and had amazing battery life. Its design also so elegant. But it has no webcam and vibrant display. It is one of the few gaming laptops having RTX 3080 GP installed. It has a high-resolution display with an amazing microphone and also it's quite lightweight. Sound quality is way better than other laptops. It can also be used for creating content. Right now it is the best AMD gaming laptop. This laptop costs $2499.
8. Microsoft Surface Pro 7
The best 2 in 1 laptop.
Specifications 
Intel Core i3, i5, or i7
16GB LPDDR4x RAM
128GB to 1TB SSD
2736 x 1824 touchscreen,12.3-inch Display
This lightweight tablet is great with Quad-core performance. Finally, Microsoft added USB-C. All Windows Exe programs compatible here. There are three modes (laptop mode, tablet mode, and studio mode). Its design is quite improved from previous versions. But still, there is no Thunderbolt 3. It's extremely portable which is also a powerful versatile tablet-laptop hybrid. The Microsoft Surface Pro 7 is next-gen. It's may cost you $749.
7. Acer Aspire 5
Amazons best selling laptop
Specifications 
Intel Core i5-8265U
8 GB DDR4 SDRAM
256GB to 1TB PCIe NVMe SSD
1920 x 1080,15.6″LCD Display
The Acer Aspire 5 is kind of a mid-range laptop. Within affordable price and with pretty much good features this laptop quite good. It gives a decent performance also a good quality of battery life and sound. Ports are fully selected. But its keyboard is mushy and the touchpad kinda cheap. This Acer Aspire 5 is very easily upgradable in both memory and storage which is very rare for a budget laptop like this. They also completely underplayed the screen technology in this laptop. Although, with some fault, this laptop is still best within cheap price only $500.
6. Hp Spectre x360 14
Best windows 2 in 1 laptop
Specifications 
Intel Core i7-1165G7
16 GB RAM|3200 MHz
Up to 2 TB PCIe NVMe SSD
5-in(3000 x 2000)OLED Display
A gorgeous machine along with its premium look also gives a top-notch performance, long battery life and Intel Xe integrated Graphics. This luxuriously designed laptop gives great display options of OLED and FHD. The keyboard is a pretty comfortable and smooth touchpad with the heavy-bass audio and practical port selection makes this device the best convertibles on the market. With many awesome packages of features, this product is a bit expensive, costs $1450.
5. Acer Chromebook spin 713
One of the best Chromebook
Specifications 
Intel Core i5-10210U
8GB LPDDR4 dual-channel RAM
128GB PCIe NVMe SSD
2256 x 1504 touchscreen, 13.5-inch Display
Especially for high school and college students, this laptop could be a great option. This laptop performs really efficiently and smoothly while dealing with a heavy multitasking load. It has increased processing power, app store compatibility. With great battery life, it also has a magnificent keyboard. The shiniest part of this Chromebook is its bright high-res displays which cames with 3:2 aspect ratios. Acer Chromebook spin 713 is the best portable and durable laptop at an affordable price of $629.
4. Dell XPS 15
The best 15-inch windows laptop for video editing
Specifications
10th-generation Intel Core i5 – i7
32GB RAM
512GB PCIe SSD
6-inch touch screen(3840 x 2400)
Dell XPS 15 laptop is a perfect 4k laptop armed with a 10th Generation processor, discrete Nvidia GeForce GPU, and great battery life. Magnificent display design, excellent audio also speedy SSD make the performance of this laptop top-notch. But it got some heat issue and the touchpad is quite big. For video editing or any other types of critical creative works, this device suits best. This attractive stunning beauty comes at $1500.
3. Acer Swift 3
The best budget laptop with an awesome performance
Specifications 
AMD Ryzen 7 4700U
8GB of RAM
512GB SSD
14-inch (1920 x 1080) IPS display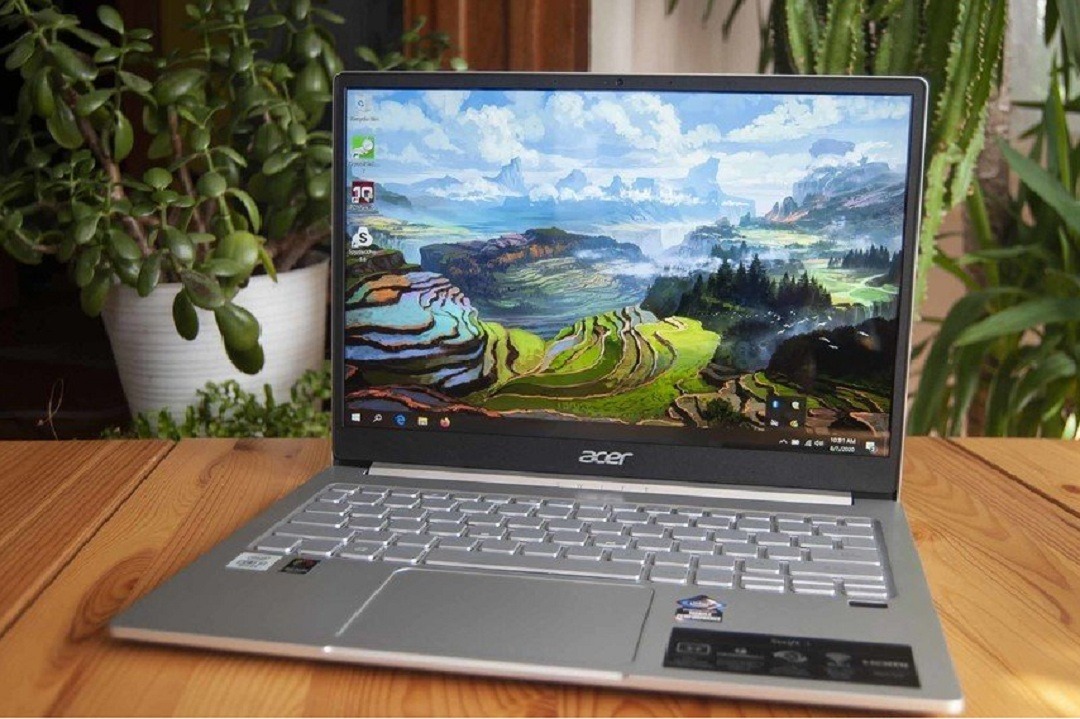 Acer Swift 3 laptop is a beastly multitasker along with its phenomenal performance. It has Radeon Graphics and AMD Ryzen 7 4700U processor which makes it go close to the XPS 13 and MacBook Pro 13 within less than $700.It got a thick display some might not like it. But overall graphics performance, long battery life, and comfortable keyboard with great look make pretty close to perfect. With this low price, it is one of the most premium laptops in the market right now, costs $649.
2. HP ENVY X360
The best budget 2-in-1 Laptop
Specifications
AMD Ryzen 5 4500U
8 GB DDR4-2400 SDRAM
256GB to 1TB NVMe PCIe M.2 SSD
3″ (1920 x 1080) touch screen diagonal FHD IPS Display
HP ENVY X360 has the most exciting features inside a 2 in 1 laptop anyone can ever imagine. It is powered by AMD's Ryzen 4000 series which did a pretty good job with multitasking produces outstanding performance. AMD's integrated the Radeon graphics which delivered good gaming performance comparable to a lower-powered discrete GPU. The build compactness, the convertible design gives it an excellent value. The graphics performance is quite disappointing also it's a bit heavy and thick than others. The battery life improved, comfy keyboard and luxurious design make it worthy. You can purchase this at a very reasonable price of $690.
1. Apple Macbook Air
The Best Laptop in 2021
Specifications
Apple M1
8GB – 16GB RAM
256GB – 2TB SSD
3-inch (2560 x 1600) LED-backlit display with IPS technology
Apple Macbook Air laptop is the best laptop Apple has ever made. With an M1 processor, this laptop gives a breathtaking performance. The outstanding battery life alongside incredibly integrated 7-core /8-core GPU graphics makes it smooth and perfect. But there is no new design and few ports. The new keyboard is excellent. All these features give a good performance boost. For the first time, you can get a quad-core chip in Macbook Air. It's still the super-thin laptop lightweight machine we all know. This product will cost you only $999.
Alright, fellas, that's it. I hope this article on The top 9 best Laptop in 2021 helpful for you and now you can buy the best suitable laptop for yourself.