Sports
Barcelona vs Atletico Madrid Prediction 2021, Betting Tips, Live Stream
Barcelona vs Atletico Madrid next match
Barcelona and Atletico Madrid are the two top giant clubs in the football world. These two great Spanish rivals meet once in this season already and following the next month they going to meet up again in the Camp Nou arena. Meanwhile, this clash could be the league decider match as both of these clubs are at the top spot at the league table fighting for the LaLiga championship. This most awaiting and exciting match will be held on 8th, May 2021. In this article, you will find out Barcelona vs Atletico Madrid prediction 2021, betting tips, Live stream, etc.
Match Preview
Barcelona Recent Form and Stats
Barcelona under Ronald Koeman doing pretty good right now. Although at the start of the season they were struggling as they were at the mid-table position. However, things have turned around as Barcelona was unbeaten 17 games in 2021. Both Messi and Griezmann are in their best form now. Likewise, Messi has the highest goals (25) with 9 assists which makes him the most goal contributor of 2021 till now. Also Griezmann the 3rd most goal contributor who has scored 11 goals with 14 assists this season so far. Others players like Alba, Pedri, De Jong, Stegen are also doing decent performances. But Barcelona's defense still undeveloped and could cost them big time. Ansu Fati is recovering from the injury on his knee and could've used some time for reshaping before this clash. Barcelona might have a full-fit squad before this clash.
Atletico Madrid Recent Form and Stats
On the other hand, Diego Simeone's Atletico Madrid started this season with a bang and they were dominating the league matches. In fact, Atletico Madrid was at the number 1 spot in the table with a huge margin point difference. But at the recent league matches, Atletico Madrid started choking as they losing points to other teams. Although they still at the number 1 spot on the table but losing any more points could be costly for them. The defense of Atletico Madrid is solid. Ex-Barcelona player Suárez is the highest scorer for them who scored 19 goals so far this season. He is recovering from his injury and might play this Barcelona vs Atletico Madrid clash which will make this match more enjoyable. Llorente, Correa, Oblak, Félix, Lemar, and Savic also their potential players. They will be in disadvantages as they are a bit weak in away matches.
Possible Starting Lineup
Barcelona: Marc-André ter Stegen, Jordi Alba, Clément Lenglet, Gerard Piqué, Óscar Mingueza, Pedri, Sergio Busquets, Frenkie de Jong, Antoine Griezmann, Lionel Messi (c), Ousmane Dembélé.
Atletico Madrid: Jan Oblak, Mario Hermoso ,José María Giménez, Stefan Savić, Koke, Yannick Carrasco, Thomas Lemar, Marcos Llorente, Šime Vrsaljko, Ángel Correa, Luis Suárez.
LaLiga Table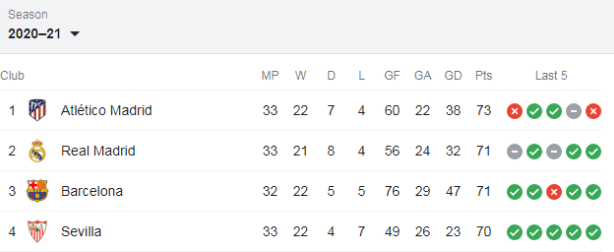 The title race of Laliga became more interesting as the top 4 teams have very close points. The match between Barcelona and Atletico Madrid will be the most exciting match of the year and it could be the champion decider match.
Barcelona vs Atletico Madrid: betting tips
As these two Spanish rivals going to meet each other within 2 weeks the bookies might release their odds soon. So we decided to give you the best free betting tips before this clash and which bets you should look after. Bettings mostly depend on these things such as over/under goals, the match-winner, are both teams going to score, etc. BTTS is an interesting market where people still bet. In here you just need to guess if both teams can score or not. With the present Barca beast form in attack and Atletico decent attacking lineup, we say go for BTTS. Over or under goals is also one of the most popular choices among betters. Here you just need to predict below a certain number how many goals will score during the match. Our experts predicted over 1.5 goals in this match. People still enjoy this Match winner as it is considered to be a traditional bet. As Messi and Griezmann both are in the hot form they will score in this match.
Barcelona vs Atletico Madrid: Head To Head
They faced each other 44 times in total. Barcelona won 24 times and Atletico Madrid won 9 times and the rest 11 matches they drew. In Copa del Rey Barcelona won every time whenever they face their Spanish rivals Atletico Madrid. However, Atletico Madrid knocked Barcelona out of the UEFA Champions League twice. But in the league matches Atletico Madrid result pretty poorly against Barcelona. They meet 21 times where Barcelona won 14 times drew 6 times and Atletico Madrid won only one time which was played last time they meet.
Barcelona vs Atletico Madrid match prediction
The last time these two Spanish rivals meet each other on Atletico Madrid home turf Wanda Metropolitano Stadium and the result was in Atletico Madrid's favor where Atletico Madrid won by 1-0. But this time anything can happen. Koeman's Barcelona will be careful with their shaky defense and Simeone's Atletico Madrid will be extra alert with their mid. But this clash will be held on Barcelona home turf which gives ATM discomforting. As both sides have some key players who can change the match at any moment. So, anything can happen but losing points could dangerous for both managers. After analyzing these two giant's recent forms we predicted it could be: Barcelona 2-2 Atletico Madrid.
Barcelona vs Atletico Madrid Live
Livescore
You can watch this clash match on TV by switching to these channels ESPN, Sky Sports, beIN Sports, etc. Although if you want to just update on live score sheet visit these sites:
Live Stream
If you want to watch this mighty clash between Barcelona and Atletico Madrid 2021 live. Follow these free live streaming sites:
On the contrary, if these sites are not working for you. You can stream this match live on Facebook. At first log in to your Facebook account then go to the LaLiga page there select the live option and click on the match. We can give you a 100% guaranty that these sites will work. Now enjoy the match and cheer your favorite team.